Trustworthy Flat Roofing service Based In Dartford, Kent & Surbiton Surrey
Are you looking to have a flat roof built or repaired? People who choose to have flat roofs added to their home are making a wise decision. They can provide the basis for an extension, or allow you to have a dry and watertight space in your garage for a workshop, for example. But sometimes having a flat roof fitted can be a nightmare, and you need to know that you have the very best people on the job. For flat roofs in Dartford, Kent & Surbiton Surreyareas, come to us, Michael's Roofing and Building. With years of roofing experience and skill-building, we can provide a flat roof installation service that not only goes seamlessly but ensures that you have a flat roof that lasts for many years to come. If you are after a flat roof you can walk over such as a balcony area then you will need us to install a GRP Fibreglass roof. read more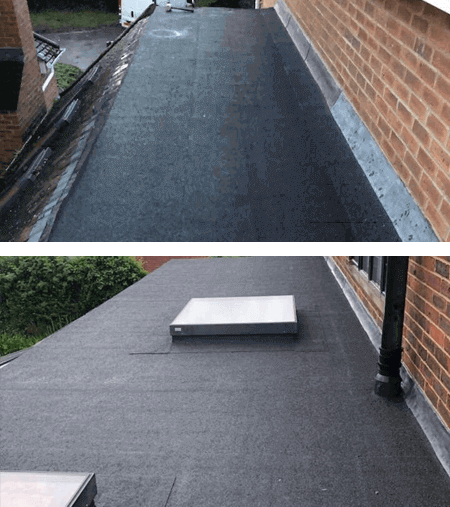 We know that older flat roofs are notorious for leaking, Our team has many years in the roofing business and have worked on hundreds of flat roofs, enabling us to spot issues quickly and in a cost-effective matter.
Flat Roof Specialist based in Dartford, Kent & Surbiton Surrey
We offer a wide range of flat roof services including:
Flat roof repair services
For when you have a leak that needs a small fix
Felt roof repair – rips, tears, and holes fixed

Emergency flat roof repair – call us if you need a quick repair

Flat roof drain repair – water not draining properly, we can help
Please call us the size of the job. We are happy to undertake all jobs big and small.
All quotes are free and without any obligation. We'll come out quickly and give you an accurate written estimate for the work.
Flat porch roof
Alongside traditional flat roofs on extensions and garages, we also offer repairs and fitting on smaller flat porch roofs.
Flat roof garage
Most garages in Dartford, Kent & Surbiton Surrey have a flat roof. Over time the covering degrades and you may not notice a leak as quickly as you would in your house. It's important to get it fixed asap when you do to prevent further damage. It may only be a very small repair and if left unchecked the bill will be greater.